Adopt a Hedgehog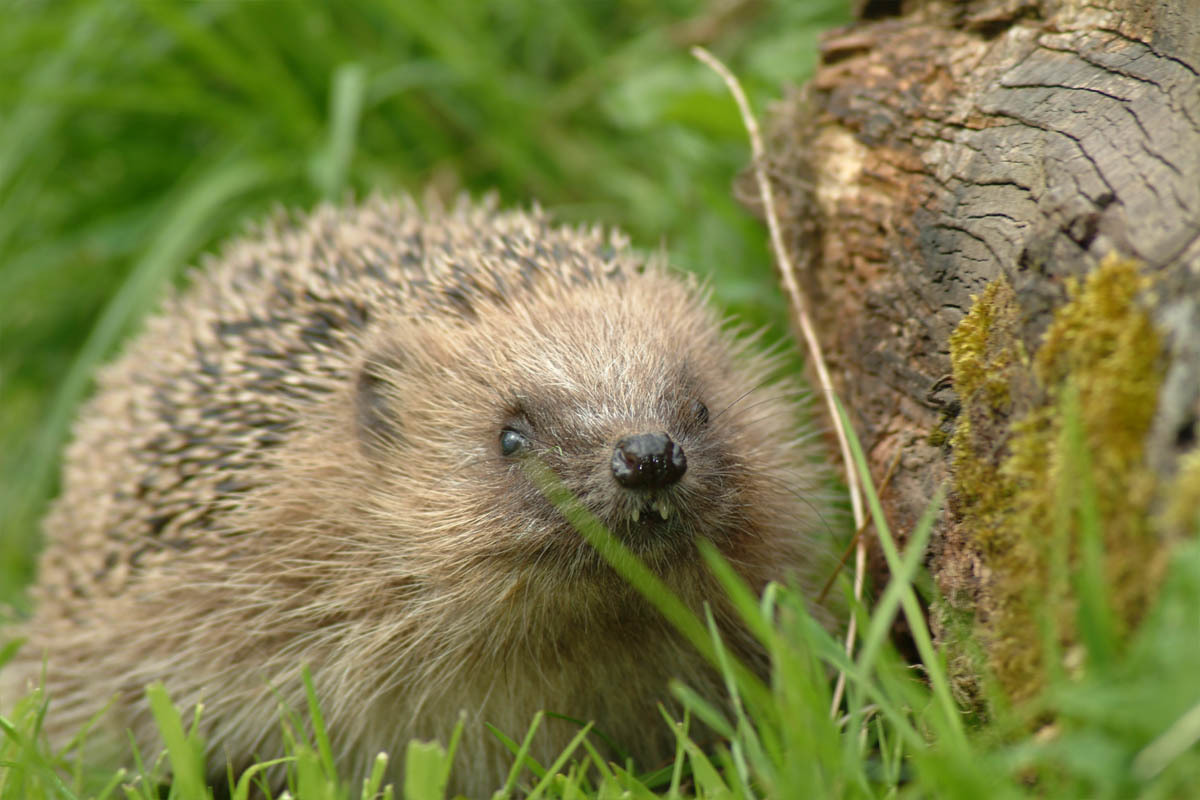 Hedgehog adoption
Shockingly, the UK hedgehog population has declined by 96% in the last 60 years, due to habitat loss. So, when we rescue an individual hedgehog, we are not just giving that individual a second chance, but we are also working to safeguard the species.

Every year, the Wildlife Aid Foundation rescues, cares for, and releases hundreds of wild hedgehogs. These rescues are often orphaned hedgehogs, having lost their parents, or adult hedgehogs that have been brought to the centre, sick or injured.
All the hedgehogs will be cared for at our rescue centre until they are strong enough to be released back to the wild.
Our work to rescue and care for hedgehogs would not be possible without the support of the public.
You can adopt a hedgehog and help fund our vital work to ensure wild hedgehogs receive the care, food, and shelter they need.
What's included in your hedgehog adoption pack
Not only will you be providing invaluable care and helping countless animals, but you will also receive an exclusive hedgehog adoption pack, including, including cuddly toy, species brochure, certificate of adoption, photo and more. NOTE: The pack will include either 'The Owl with the Golden Heart' book or 'Wildlife SOS' book, dependent on stock.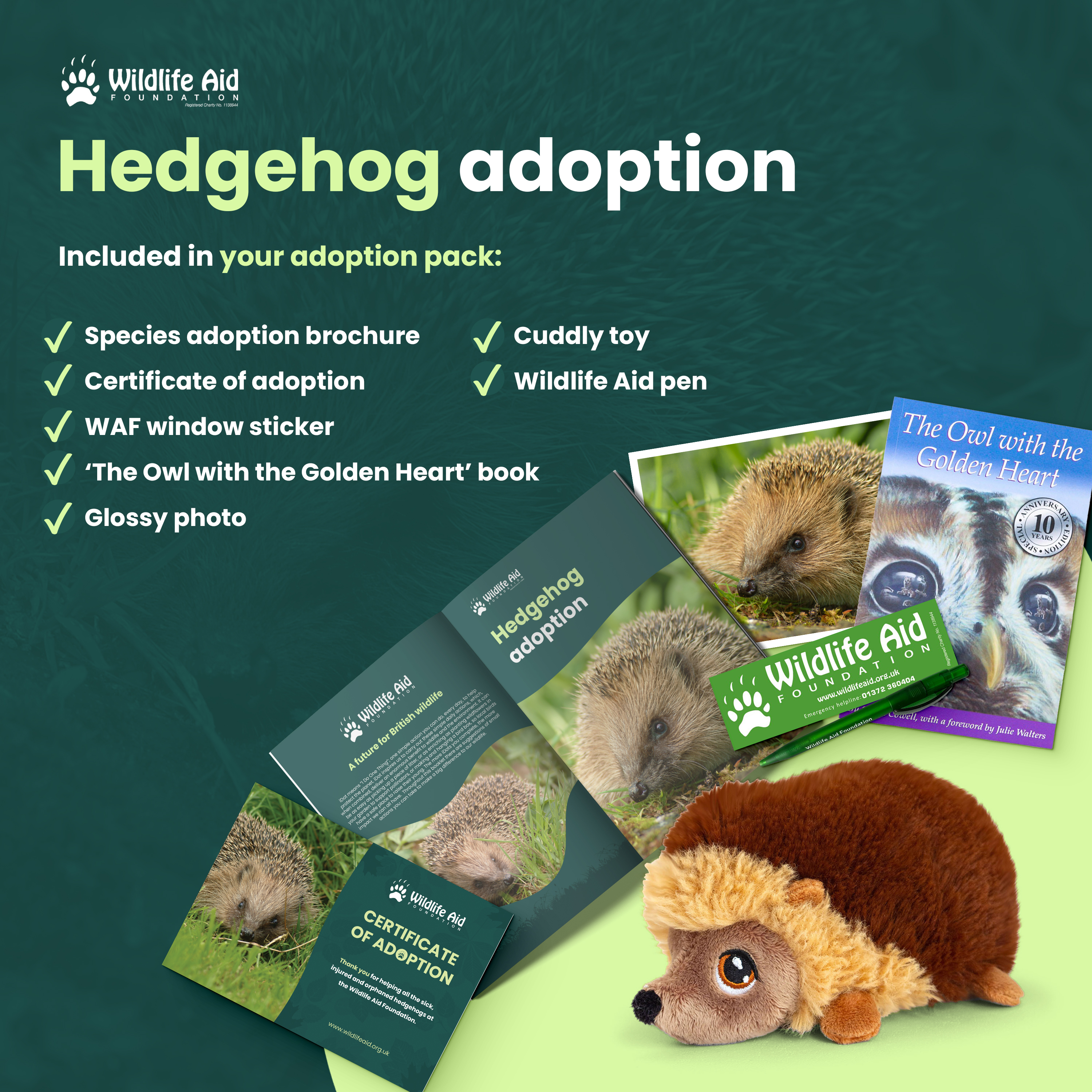 Adopt today
Click on the adoption button below and become a hedgehog adopter today.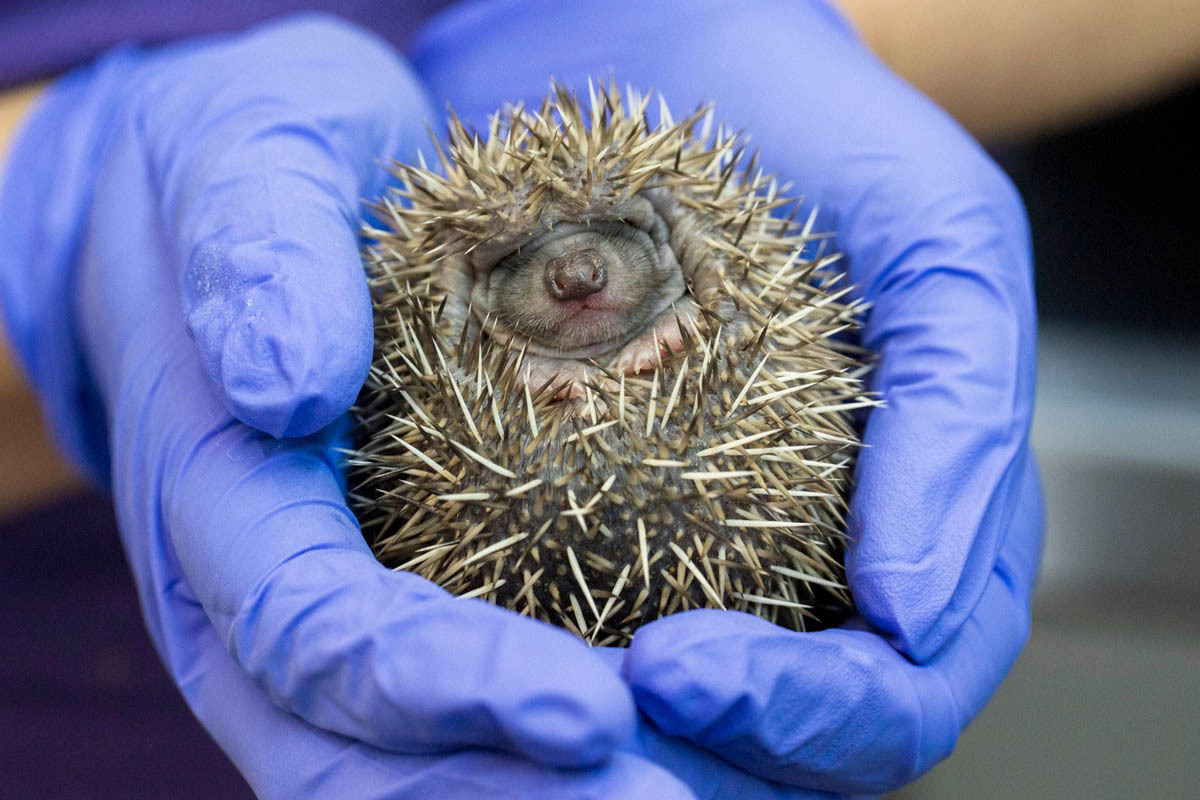 How your adoption will help
These beautiful creatures have been a quintessential part of our British wildlife and our storybooks, all our lives. Britain's iconic prickly mammals have been a common sight across the length and breadth of the UK for many years, even finding their way into our gardens, to nest. Sadly, these spikey mammals are in decline; threats, such as habitat loss, nest disturbances, the use of chemicals in gardens, and road traffic accidents, have resulted in the UK losing over 96% of its hedgehog population, since 1960.

At WAF, we take in over 1000 hedgehogs, each year, and provide support and advice to help care for many more. Many of the hedgehogs we receive are orphaned, with almost zero chance of surviving, were they to have been left, on their own, in the wild. Our aim is to care for them until they are ready to return to the wild. With a population that has declined so much in the last 60 years, we must do all we can to protect these wonderful creatures.

Adoption information
Adoptions are for a period of one year from the date you choose to start. We aim to send all packs within 5 to 7 days of receiving the order.

Please allow up to 7 working days for delivery, or 10 working days during peak season. Please note, all parcels are sent via Royal Mail for international orders. You can adopt an animal for yourself or for someone else.
When ordering your adoption, you can choose to have the pack sent either to yourself or to the gift recipient.
Please note, we recycle and reuse our packaging materials.
How to adopt a hedgehog
Step 1: Select the amount you want to pay by Direct Debit each month, we require a minimum donation of £3.50 per month to cover the cost of the adoption, or if you prefer a one-off payment you can choose to donate any amount from £42

Step 2: Fill out your adoption details. If it is a gift please refer to the 'adopting a hedgehog as a gift?' section on this page, before entering details.
Step 3: Compete your billing & delivery details
Step 4: Enter your payment details.
Step 5: Welcome to our community of hedgehog lovers.
Adopt a hedgehog as a gift
These adoption packs make great gifts for all animal lovers.
Select the 'gift adoption' option during the application and you will be prompted to enter the giftees details.
Note, there is no gift card included so if you choose to have the pack sent direct to the recipient you would need to inform them that you purchased the adoption.
Adopt a Hedgehog
Your adoption will help Wildlife Aid rescue injured or sick hedgehogs and provide them with around the clock care, food and shelter.